Public Art and Architecture Walking Tour in Downtown West Toronto (Join our Tdot Iconic Photo Walk)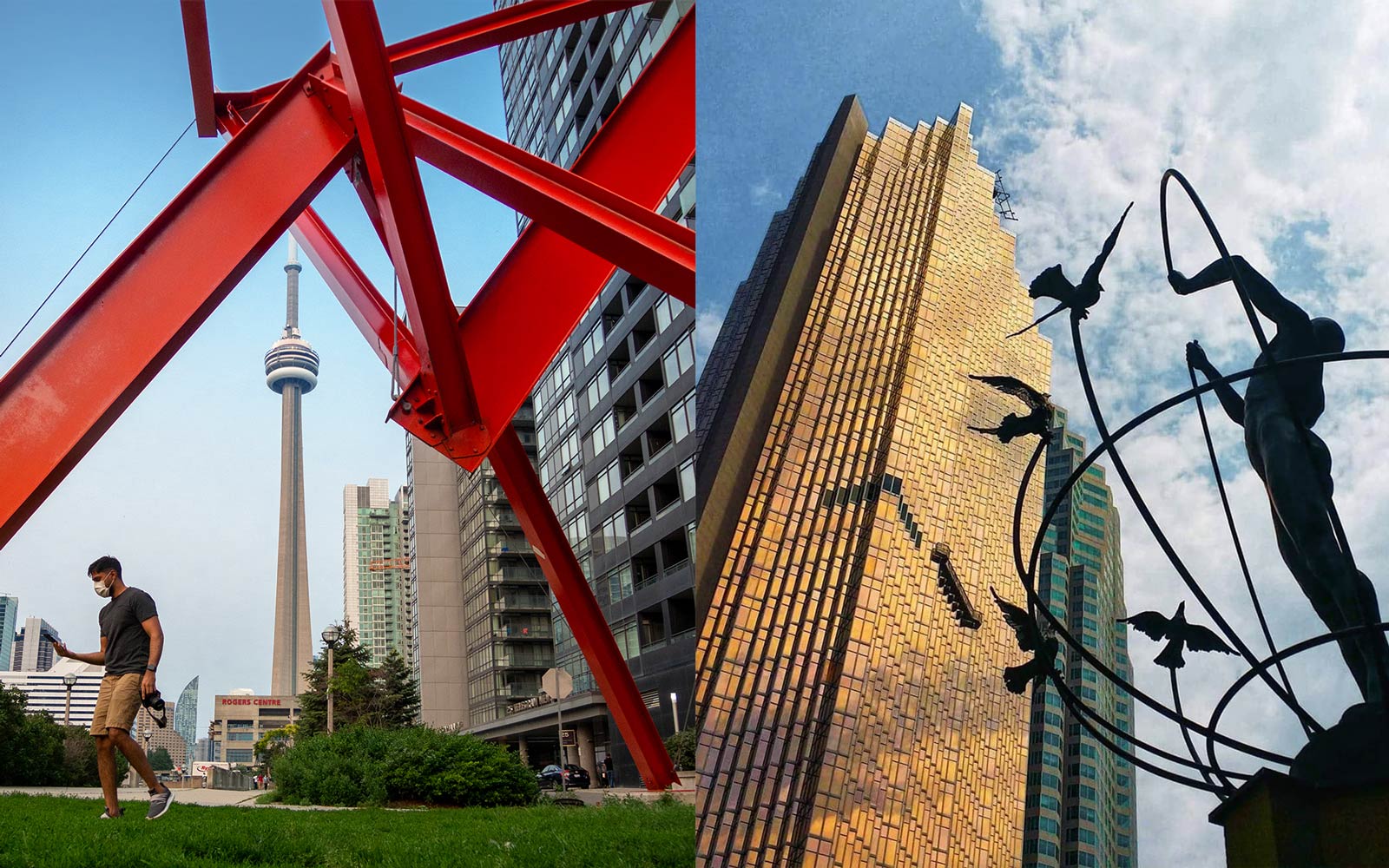 Feature image collage by Mike Simpson aka @tdot_mike
Welcome! Presented by Tdot Shots and Iconic Toronto, this event is part guided tour and part photo walk, and we explore the incredible public art and architecture in the downtown west of the city.
Our typical art walk in the downtown west leads us from the west end at the Bentway (Fort York Blvd.) to the centre of the city at Union Station (Front St).
We love this route because we pass some of the newest and coolest buildings, parks and artist spaces in the city. The west end is constantly surprising and delighting fans of art and architecture!
Typical route and art /architecture highlights!
Here's an outline of the route / highlights:
Monument to Multiculturalism by Francesco Perilli at Union Station
CN Tower and Skydome (Rogers Centre)
The Audience by Canadian artist Michael Snow
Chinese Railroad Workers Memorial by Eldon Garnet
Flower Power sculpture by Mark Di Suvero
Puente de Luz bridge by Francisco Gazitua
Canoe Landing Park by Douglas Coupland
Umbrella Sky Project at Stackt Market
Bentway art installations by various artists
Join us for a tour and photo walk
We have scheduled guided tours and photo walks, or you can hire us to take your private group. Looking ahead we will lead a photo walk tour on June 25. Sign up at our website tdot.com/events.
More events will be planned for summer and fall. Reach out if you are interested in joining us!
Accessibility and Transit
Most of the route is outdoors and accessible. There may be one or two spots with stairs. We allow extra time and assist our guests who may require assistance with the route. Public transit is convenient at both ends – take a streetcar to or from Bathurst or Spadina or subway to or from Union Station.
We walk rain or shine so no matter the weather our events go ahead unless there are extreme conditions which force postponement or cancellation.
Links and Resources
Chinese Railroad Workers Memorial at Toronto Railway Museum
Monument to Multiculturalism at Spacing Magazine
Photo Gallery
Here are some images from the Toronto photo community! Our thanks to all those who capture our city so beautifully. Please give the creators a follow.
Rogers Centre and The Audience sculpture
The Audience sculpture at Rogers Centre by Canadian artist Michael Snow / Photo by @amateur_snappyy
The Audience sculpture by Canadian artist Michael Snow / Photo by Saschaporsche Wikipedia
Chinese Railroad Workers Monument
Puente de Luz bridge
Canoe Landing Park
Flower Power sculpture and other public artworks