Announcement: Congrats to Winners of the Iconic Toronto Photo Contest by Tdot Shots (Review and Critique)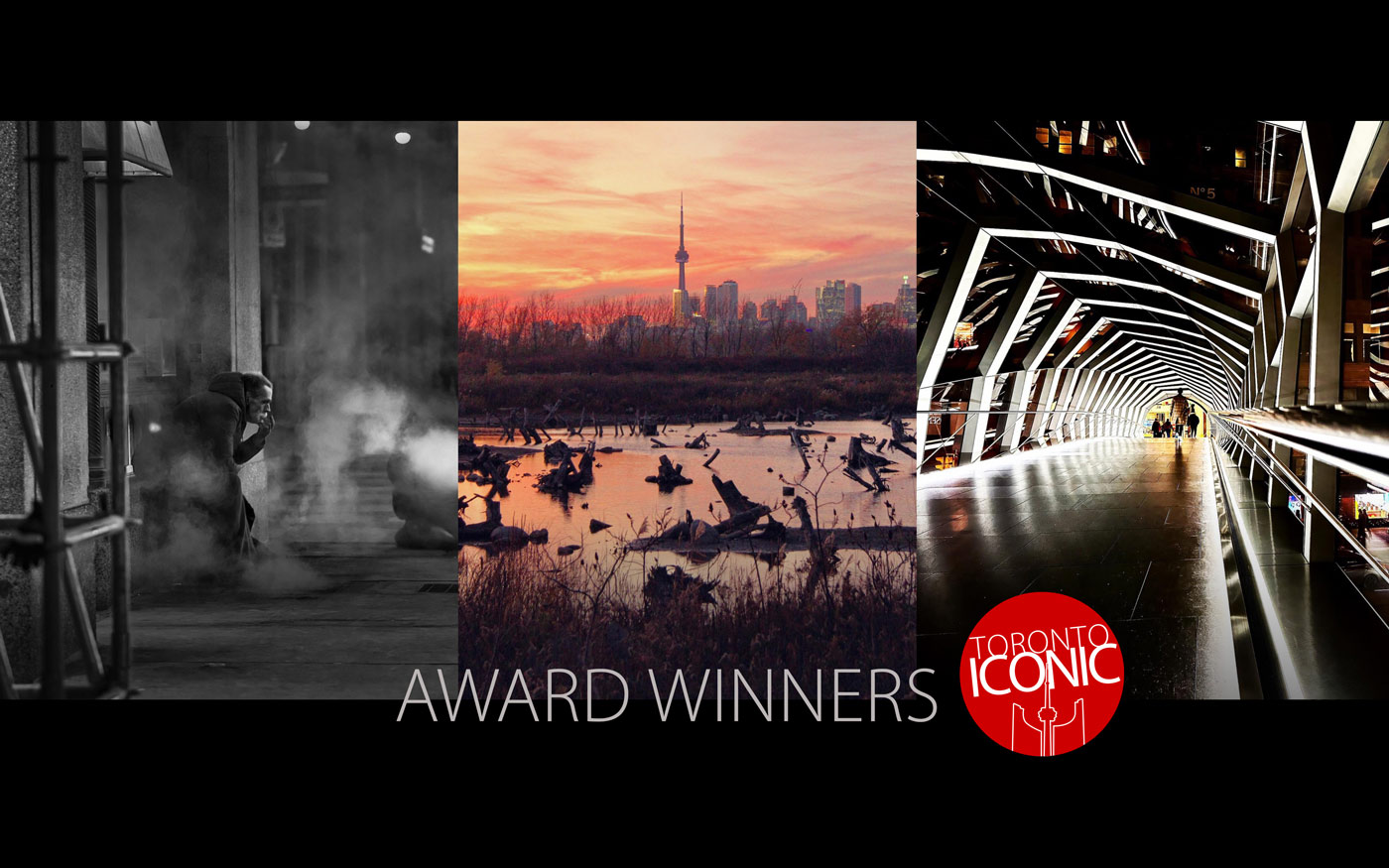 Please note: We welcome your thoughtful comments. Tdot Studio commenting is limited to logged-in members of this site. Join to be able to post a comment. Registration is free.
Wow. What a process and experience hosting our 4th annual photo contest! The contest is over and winners were announced at the Photo Walk yesterday December 12 in downtown Toronto. We had an amazing group of 30+ photographers. Cheers to all who came out!
Our theme was "Iconic Toronto," and we sought to transcend the typical by making sure out categories covered a broad range of what this city has to offer. Follow our page @iconictoronto on Instagram, as we will host more events and continue to feature iconic photos of Toronto. Be sure to read the contest announcement post if you are curious about the event.
Photo Contest Categories included:
Culture and Street
Cityscape and Landscape
Architecture and History
Entering the Contest / Judges and Sponsors
It was a simple process to enter, contestants merely had to use the hashtag #iconictoronto on their Instagram posts between Nov. 1 and Nov. 30. Subject matter and location had to be within the city of Toronto, and of course our judges looked for top quality shots that met the category descriptions.
Speaking of the judges, we are grateful to Taku Kumabe and Brian James for lending their talents and artistic eyes to the evaluation of the entries. We received over 2000 photos so it was a challenge. Special acknowledgement to our amazing sponsors for donating prizes. ProLab Canada contributed printing product credits valued at $100. CN Tower contributed pairs of passes, valued at $88. Thank you to both organizations on behalf of the Toronto photography community.
Category: Culture and Street
This category was perhaps the most interesting because the photography challenges you to really assess the class elements of composition, tone and subject matter. Traditionally street photography has people in it, or at least the things people make and use, such as transit, cars, bikes and street landscaping such as tree planets, furniture such as benches or public art and other human forms. Culture, on a simple level is meant here to refer to the world of people and the cultural life of the city, whether that's workers on a restaurant, pedestrians walking to work or a homeless person sitting in a reflective moment, which is an unfortunate aspect of Toronto culture.
Preference was given to images that had human forms. A composition with 1-2 human figures, animals or other aspects of the public life were what we looked for. A cityscape image with a lone streetcar in the centre of the frame was not going to make the cut. An image of a bartender inside a bar would – the category doesn't exclude interior shots, hence the decision to call it "Culture and Street."
Winner and Runner-Ups – Culture and Street 🏆
1. @naibank.eng
2. @hashgarble
3. @the__stash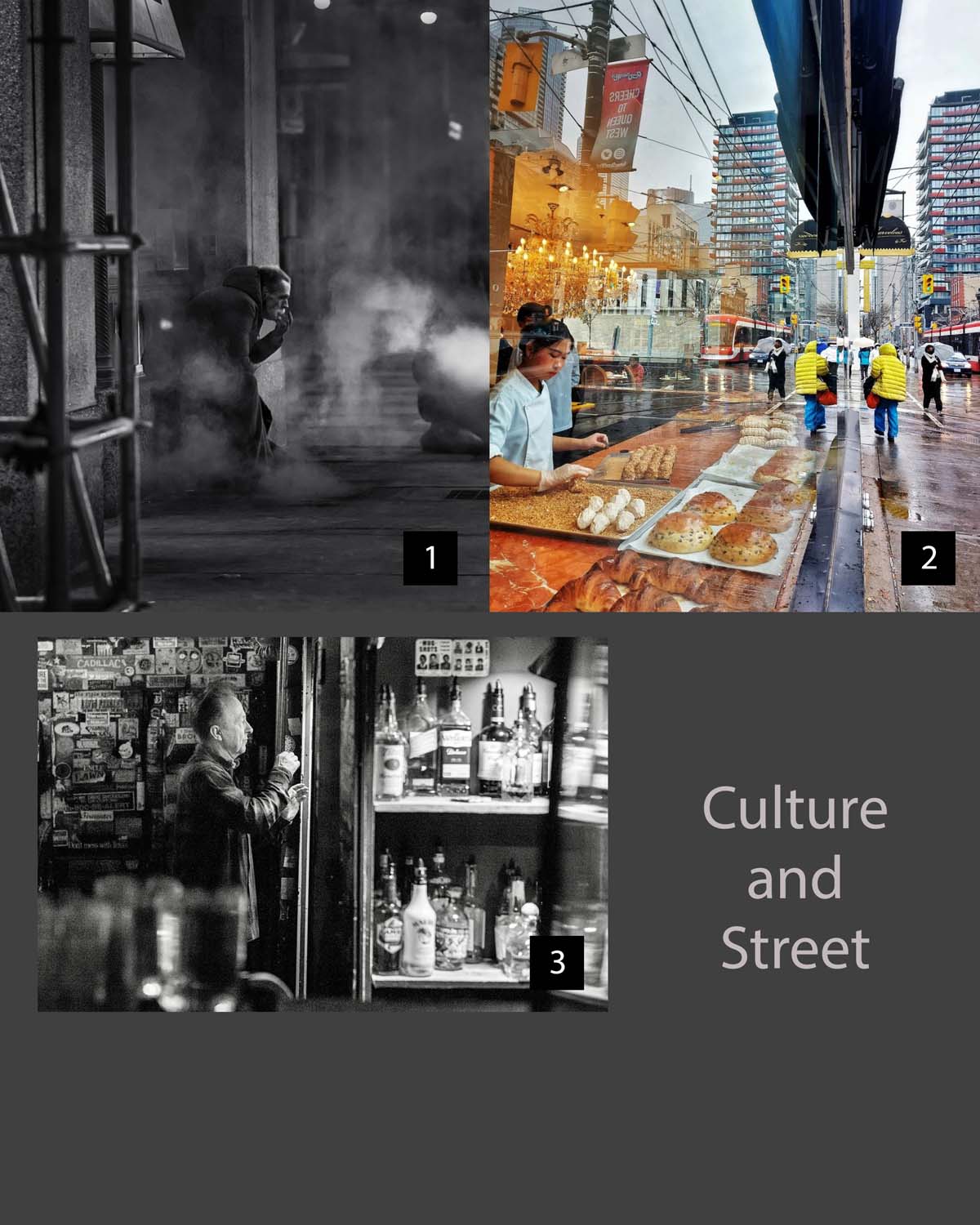 These images are all deserving of a prize. In 1st place, @niabank.eng has captured a very moving and moody scene of a figure sitting in the steam. the dark mystery of the shot and the composition really stood out. Congrats to the winner for creating such a powerful shot! 2nd place, @hashgarble has created a masterpiece of action and composition, with a cultural element in the figure doing food prep in the window and the pedestrians and streetcar in the rest of the reflection shot. Bravo to the creator!
In 3rd place, @the__stash has taken a candid snap of a bartender at work in a downtown venue. The framing is spot on and the image captures the moment beautifully. Well done and congrats to the photographer! Our judge Taku Kumabe commented: "This candid moment of someone looking to pick something up really captures the moment with the editing treatment. Leaving the foreground element of the bottles on the shelf gives a hint as to where this photo was taken, further telling a story."
Follow the photographers:
@naibank.eng
@hashgarble
@the__stash
Category: Cityscape and Landscape
Perhaps the broadest category in the contest, we probably had 80% of entries fall under this umbrella. That made is somewhat challenging as our total photo entries were about 2000!
Having said that, unlike Culture and Street, it is relatively easy to find a large number of high quality images to select from. As with other categories we bookmarked out favourites, organized the selections into folders and then determined a list of nominees or finalists that would number up to 10. The best images in this dual category would obviously meet some aspect of being both cityscape and landscape.
Winner and Runner-Ups – Cityscape and Landscape 🏆
1. @marcela.kadanka
2. @midnightnsix
3. @naibank.eng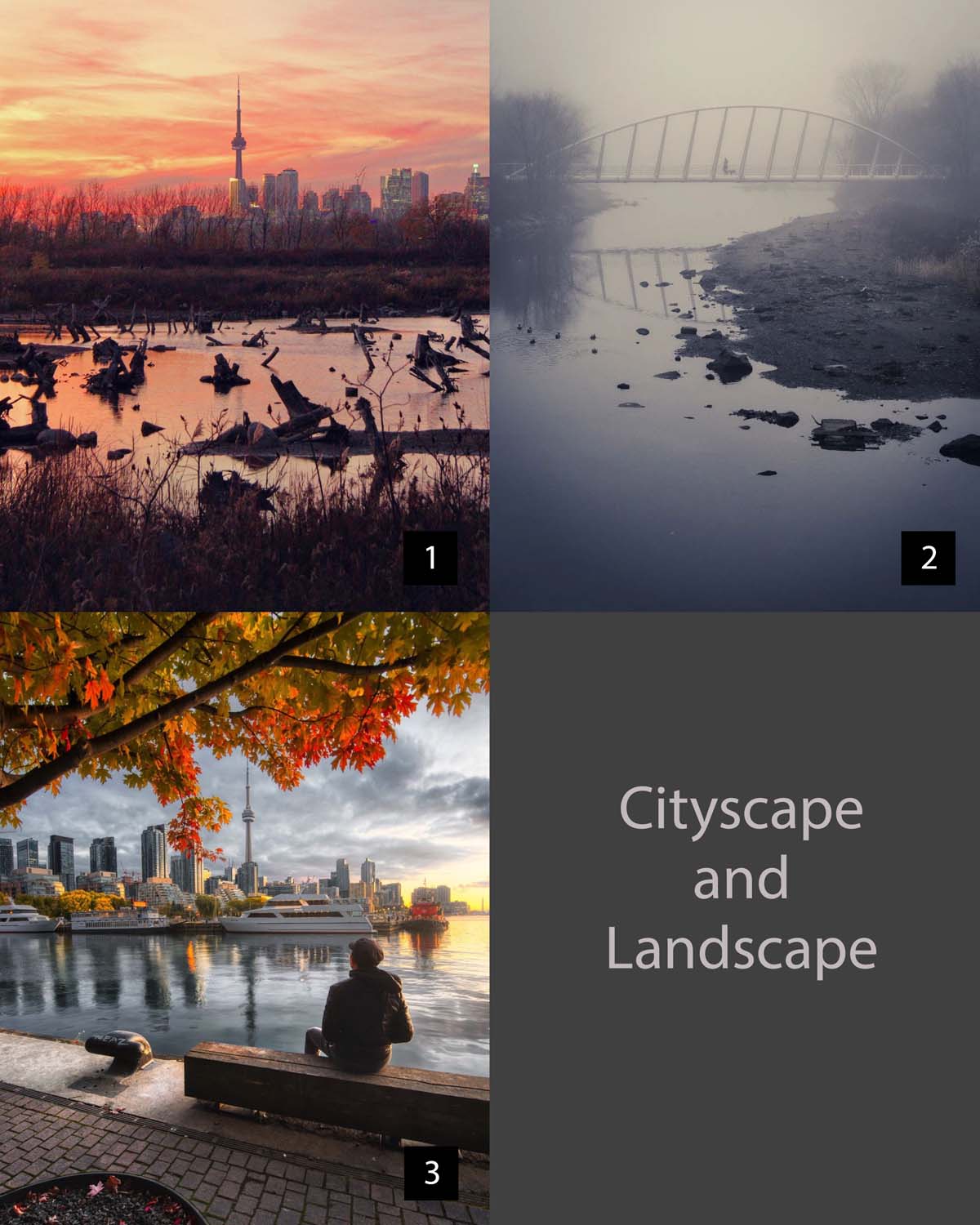 This group of winning images are truly stunning. In 1st place, @marcela.kadanka has captured what is perhaps the quintessential cityscape / landscape hybrid. This view from Tommy Thompson Park in the east end of Toronto's waterfront features a rugged natural landscape with the city skyline at dusk. truly a gem. Judge Taku Kumabe writes: "This view of the city from this perspective immediately caught my attention because it's not one we see too often. I love the trees and logs in the foreground which brings in more interest to this photo, not to mention the attractive colours of the sunset. Great use of all the elements in this photo."
Meanwhile, in 2nd Place, @midnightnsix created a magnificent moody shot at the opposite end of the waterfront, at the Humber River bridge in the Humber Bay (companion to the larger "Arch Bridge" to the east). The composition and fog, combined with pedestrian walking a dog, entranced us. It's a wonderful urban landscape image. In 3rd place, @naibank.eng presented a masterpiece from another part of the waterfront, a scene from Harbourfront just west of HTO Park. this is a truly iconic spot and this fall sunrise capture encapsulates the beauty of this location, driving home that Toronto truly is a city on a lake.
Congrats all for creating such wonderful images and entering in the contest. And yes we are aware that all of these images are taken at or near Lake Ontario. That theme of city and water is omnipresent in the best landscape and cityscape photography in this fair city.
Follow the photographers:
@marcela.kadanka
@midnightnsix
@naibank.eng
Category: Architecture and History
Similar to Culture and Street, we found a dearth of images that met the description of architecture and even fewer that had a strong historical aspect. That made this category a smart one for those seeking strategically to maximize their chances of winning!
It is probably clear, but architecture can cover old or new buildings, landmarks and structures around the city. History refers to older physical constructions or details and can definitely include some aspect of the archival.
Winner and Runner-Ups – Architecture and History 🏆
1. @vaibhavsclicks
2. @sharonchan.photography
3. @digigraphs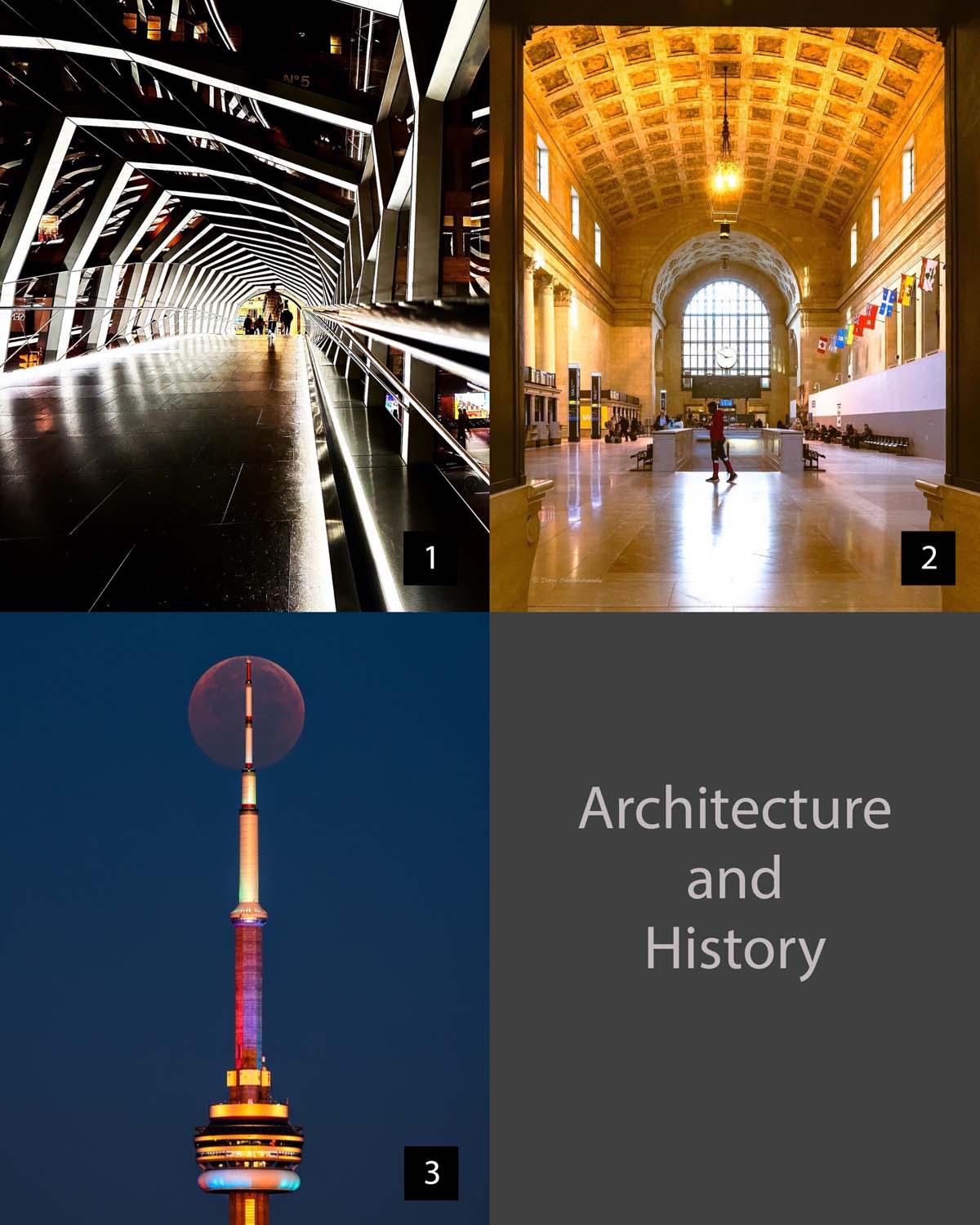 These photos represent the best of Toronto's architecture and history. Though some complain Toronto is a new city, there are hundreds of buildings from the mid to late 1800s. And obviously early 20th century buildings have classic elements that predate modernism and post-modernism.
So with that being said, these photos tilt toward the modern and post-modern, but also represent the best of the classic historical tradition (Union Station). First off, 1st place, @vaibhavsclicks presents a wonderful shot from the Eaton Centre Skybridge, an architectural gem that spans Queen Street West in the downtown. The composition was spot on and there are a few figures in frame to give a sense of scale and perspective. This amazing pedestrian bridge appears on lists of the most photographed and visually interesting landmarks in the city. Our judge, Taku Kumabe, said "Great use of leading lines here in a dramatic image created by the right lighting. The lines of this tunnel create the unique pattern that leads us to the pedestrians on the bridge—I very much like the perspective this was taken. "
In 2nd place, @sharonchan.photography has created a beautiful image of the Great Hall of Union Station. Again, a figure in frame helps emphasize scale and proportion, while simultaneously reminding us that this is a place of movement – in this hall many travellers embark on or arrive from trips outside the city or even from across Canada. If you take a moment you may also appreciate the photographer's framing, with a dark area at right and left which are columns or a doorway. Framing and timing are great here! Arriving in 3rd place, @digigraphs presents a colourful architecture shot of the CN Tower with a moon as a bonus. Though it is a colour image we felt the detail of the tower was fantastic and the image was a worthy architectural pick. Often images at this range are shot from below, and this image is clearly shot at a great distance, allowing us to see much of the detail of the top half of CN Tower. It's without a doubt one of the most stunning and iconic architectural treasures in the city.
Follow the photographers:
@vaibhavsclicks
@sharonchan.photography
@digigraphs
Congrats all and see you next year!
Be sure to follow the photographers!
@naibank.eng
@hashgarble
@the__stash
@marcela.kadanka
@midnightnsix
@vaibhasclicks
@sharonchan.photography
@digigraphs
That's all for now! Appreciate your support and please do leave a comment (register first). I am looking forward to seeing many of you out on a photo walk or in an online course.
All the best for 2023 and happy holidays!
Mike Simpson
Free and Studio Pro Memberships
Looking for feedback on your photography, art or design portfolio?
Whether you are a full-time artist or hobbyist looking to get into photography or design, it's of benefit to work with others and get feedback on your art. At Tdot Studio, we support our members and offer lots of opportunities for developing your craft and networking with other creatives (via our training courses and meetup events).
Register for a free membership, then upgrade to a Studio Pro plan to get support and a critique of your work. Membership includes courses and opportunities to present your work on our social media and websites.