How To Register Your Own Domain Name (including Dot Com, Dot CA and Alternate TLDs)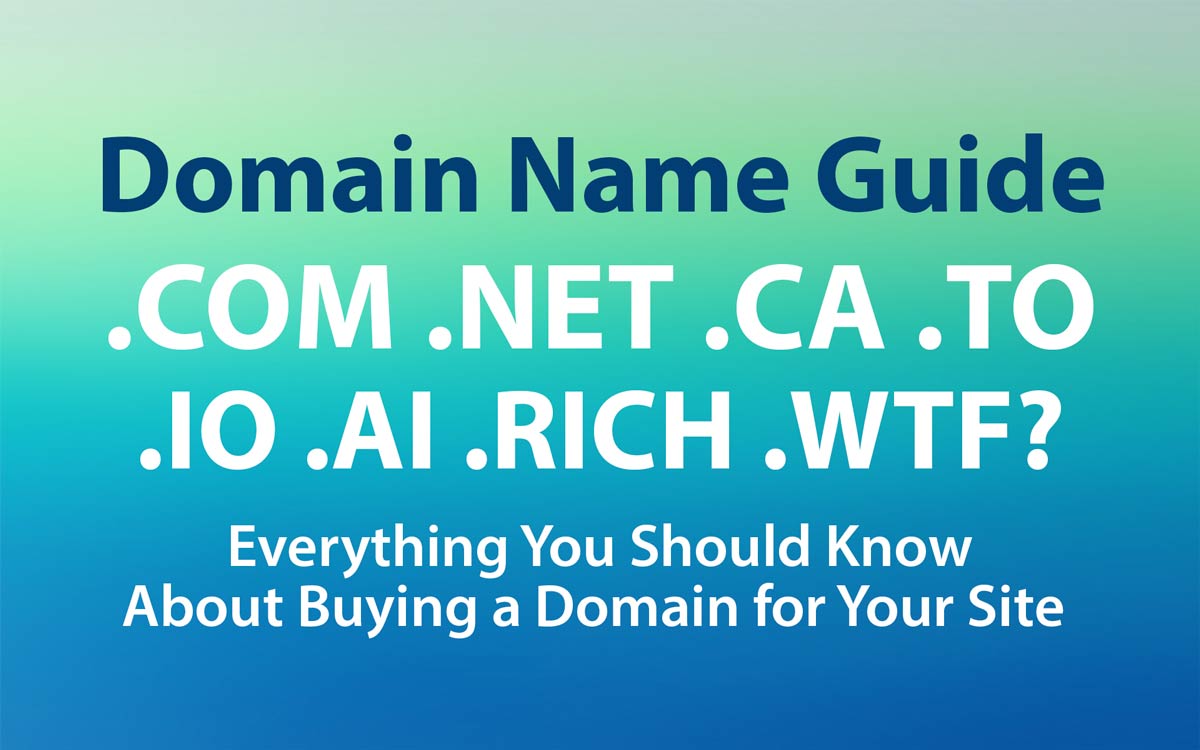 This post may contain affiliate links. We receive a small commission, at no extra cost to you, if you purchase a product or service after clicking through a link on this page. Thanks for your support! And happy domain hunting!
We live in an age where people often think their Facebook is their "website" – but it's definitely not. FB and social media in general offer a web page that can be your home on the web, but don't maximize your professional presence.
Your own domain name and website offer maximum personalization, customization and the ability to share your portfolio and work without overwhelming your clients or contacts with advertising or any of the distractions of the social web.
And yes there is a WTF domain and it does stand for what you think it stands for! Regarding the image for this post I chose to include dot com because it still reigns supreme, dot net because it is still considered a good alternative, and dot ca because all Canadians should be satisfied with .CA for their domains. Tech companies are trending toward the use of .IO or .AI. If you are in Toronto, a domain extension like .TO might work. And if you have the money you can express your wealth by buying .RICH (it's very very expensive, well over $1000 per year).
Here's what you need to do:
decide on the ideal website name
consider acceptable variations of your name
register via a registrar such as Namecheap or Cloudflare
pay the annual fee (do not pay for extra services including whois privacy!)
read this article for tips
Our WordPress Course
Please note if you are considering creating a website we always recommend WordPress and we have a great course for DIY web creators called Create Websites with WordPress. Check it out.
Important terms
TLD: Top-level domain refers to the last segment of a domain name, or the part that follows immediately after the "dot" symbol. Our internet address https://tdot.com is using the ".com" top level domain.
Note on my research
I researched buying a generic TLD that I was not interested in purchasing: mytorontopets.com. I'm not afraid either that anyone else will be interested in this. If you want to register this name go right ahead 🙂
Prices listed in the chart are for Canadian dollars. Many sites automatically put the price into Canadian for me, but not all. Namecheap and GoDaddy automatically indicate CAD with "C" at the beginning.
It doesn't matter what currency is being used because it is easy at a glance to see the relative differences in price. It is easy to see that GoDaddy is much higher than Namecheap for example. $25 is $8 more than $17, resulting in a 38% difference in price! Don't get suckered by a first cheap discounted year either.
Register one domain for one year and this difference will not be too significant. However multiply by 10-20 years or by a dozen domains and this is going to be a huge difference in cost. It pays to be smart and thrifty when buying domains and other web services.
Conventional domain name generic TLDs such as .com vs country code TLDs such as .co and .ca
It bears consideration and won't surprise anyone that many popular names with dot com as extension are already registered. From my experience this is now becoming true with extensions such as dot CA as well. You'll need to consider alternate spellings or longer forms or domain hacks, which create an ideal name using some alternate name and domain extension.
Conventional General TLD (gTLD) Examples
The more popular and well known top level domains include:
Traditionally all serious businesses would maintain a .com domain as their primary web location. .Org has been popular with not for profit sector and .net is more likely to be the home to a "network" services business.
Country Country TLD (ccTLD)
Over the last few years millions of dot CA domains have been sold to Canadians and buyers from abroad, anyone who seeks to have a domain with a Canadian presence. In the case of ccTLD or country code top level domains they are almost all available for purchase by non residents.
Here are some examples from the hundreds available:
,CA (Canada)
.CO (Colombia
.TO (Tonga)
.IO (British Indian Ocean)
.MS (Montserrat)
.GL (Greenland)
Alternate Generic TLDs
Let's look at a few example fo alternate top level domains. Keep in mind there are thousands and you can review them by searching at a domain registrar like Namecheap. It is mind boggling how many TLDs there are now.
.BIZ
.INFO
.DIGITAL
.ETH
.FUN
.WTF
In the examples above I think ".co" is perhaps one of the most accessible alternatives that is similar to well known extensions and pretty easy to remember.
Your business or organization could find your .com or .ca name is already taken but find that .co presents a short and useful alternative. In a similar fashion, .TO is familiar to many and is a great domain extension.
Domain Hacks and Shortlinks
Finding alternate ways to spell your ideal domain is a challenging but interesting idea if you are open to using different TLDs.
Sometimes domain hacks serve the purpose of being a tool like a URL shortener. Consider the examples of the New York Times and Google. New York Times can be reached by visiting nyti.ms which redirects to nytimes.com. Until recently they were using "nyti.ms" plus a random string as a link shortening service. If you share an article these days it doesn't not seem to produce the short link.
The domain ending "MS" is from the small country known as Montserrat. There are a lot of words or businesses that end in "ms" or use the two letters as an abbreviation.
A further hack could be using the "es" domain extension which is the country code for Spain. For instance they could spell their domain "newyorktim.es" – but note they don't own that domain. It is parked on GoDaddy and apparently for sale.
In December 2009, Google released a URL shortener service using the domain hack goo.gl. The service was shut down on 30 March 2019. The extension for the goo.gl domain was "GL" which is the country code for Greenland (Greenland is an autonomous territory within the realm of Denmark). Incidentally, Google now suggests Bit.ly and Ow.ly as link shortening and tracking alternatives. Those domains use "LY" which is the country code for Libya.
I've created some short links for my own marketing and promotions. tdot.com/photovideo leads to the full Photo Video Workshop course via a redirection at the Tdot Website. This is not a hack as such but shows you how a shortlink can be created to advertise a service or product and then redirect people.
If your business could use a short domain that conveniently works with an alternative TLD you really should consider it. For example, if you were Adidas, you might want the domain "adid.as." Protecting your IP and brand by acquiring names like this makes sense. (By the way, "adid.as" does not point to an Adidas site but it is registered as seen in this WHOIS information).

Domain Pricing and Ownership
Domains can be cheap or expensive. Many such as .com or .ca can be purchased for around $15 per year. It's worth noting that you "register a domain" but you don't own it. It's more like renting, since if you don't renew annually the domain will return to the open market (or you'll lose it to people who specialize in harvesting abandoned domains).
Some domains are shockingly expensive so you'll have to shop around!
While a dot CA is relatively cheap, sold by Google Domains for the same price as dot COM at $17 – the regular price for CM which is country code for Cameroon is a crazy $155 per year. That's insane. An ".click" or ".name" domain by comparison is only $11 per year.
Price Comparison Chart (Annual Fee)
Let's take the example of a business called "Toronto Pets." Now it's easy to imagine that this somewhat general term "torontopets" will not be available in the most common domain extensions such as .com and .ca.
You can try this search yourself at Namecheap and input any term you like.
Since dot com is still the king and is often inexpensive let's look at the pricing for this standard bearer. Let's try the following registries: GoDaddy, Bluehost, Google, Cloudflare, Hexonet and Namecheap.
I currently use and prefer the last two: Hexonet and Namecheap. I will explain why I prefer these services but first let me say that you will see a lot of advertising and recommendtions to use hosts/registrars like GoDaddy or Bluehost. I have used both for multiple year periods and I think they are over-priced and unreliable.
It's important to get a good price on your domain name. There can be a wide difference between what various companies are charging. Let's check out some current pricing.
It's also important to note whether the registrars charge for "whois privacy." Many charge an extra annnual fee for this service, which blocks your personal information from being available in a Whois database search. Namecheap provides this service for free.
| | |
| --- | --- |
| Domain Registrar | Price Regular for one year |
| Namecheap | C$17.77/yr |
| Hexonet | C$16.75/yr |
| Cloudflare | C$10.84/yr |
| Google | C$17/yr |
| GoDaddy | C$25.99/yr |
| Bluehost | $16.41/yr (adds additional $15.01 privacy fee to cart!) |
Note that ICANN fees and applicable taxes may apply at checkout.
What's up with Bluehost and Cloudflare?
Bluehost is despicable in automatically adding domain privacy to their cart. Many people will end up buying it and paying double every year. Beware that WordPress and many sources online will recommend Bluehost – but I say stay far away.
You might also ask: Why is Cloudflare so cheap? According to their site, they are selling domains "at cost." Why are they doing this? This is a strategy similar to Google's early provision of many free services such as Google Photos and Gmail. It's a freemium model, based on the idea that eventually many of the free customers end up upgrading and spending money on other services.
First year discounts hide true price
One thing to be aware of is the first year discount which is a very common sales feature. GoDaddy offered me the pets domain for $2.99 the first year, but then will charge $25 the second year.
Namecheap, my long-term favourite has many discounts built into purchase. Right now they offer two different discounts, one is automatically applied while one seems to require a code. Definitely consider the long-term price not just the first year.
Unnecessary fees and upsells
Most of these registrars will attempt to upsell you some unecccesary service at the cart stage. Typically this will involve trying to sell you a security service that will prevent theft of your domain. Assuming your account and email are secure you would never need to pay for a service like this.
WHOIS Privacy and WHOIS Redaction
I love Namecheap because not only did I discover their great service and prices, but they offer WHOIS Privacy as a FREE SERVICE when you buy or transfer your domain to them. After dealing with GoDaddy and Bluehost and others, I found this refreshing. The cost savings is significant.
If you are not aware, WHOIS is a domain lookup service to find out who owns and manages a domain and website. It used to be that individuals and corporate information alike were easily found there, but then some recognition that privacy was important led to procedures to make this info private.
As I mentioned above, Namecheap for example, offers to hide your personal information for free. There is no charge for this, yet some domain sellers charge for this. Do not pay for this. If you are already paying for this consider changing services next time your domain is up for renewal.
Feedback as you search domain availability
Curiously some web hosts give you feedback after you start searching for domains.
Google shows this feedback for "mytorontopets.com":
This name has a popular ending (.com)
The words in this name are spelled correctly
This name isn't too long
Google also warns "People might hear mye instead of my and type the wrong name." I think this is dubious suggestion – what is "mye" anyway?
GoDaddy gives this feedback on "mytorontopets.com":
Why it's great: "My" is a high value keyword that has an average sale price of C$2,540.00.
Why it's great.: mytorontopets is 15 characters or less.
I doubt that the use of "my" at the front of a domain name automatically gives your name a resale value of $2,500.00 – thats a pretty high figure. "Mytoronto.com" might indeed have a huge value, but mytorontopets.com won't be worth much unless there's an associated business that generates income.
They are both correct that while not being a short name, this name is reasonably short and memorable. The worlds are spelled correctly and they are all real words.
Blockchain domains not practical (yet)
Surfing Namecheap recently I discovered them marketing something called "handshake domains." Also known as HNS these domains are described as blockchain domains with better privacy and control, yet outside of the conventional DNS system which means you can't yet use them in browsers like Safari or Chrome without installing special extensions.
There are domains marketed by Unstoppable Domains including interesting domains like ".x" and ".bitcoin," or even ".nft." It's attractive but not very practical. But if you do buy one of these domains you really own it and you don't pay yearly renewal fees.
It must be repeated though – these domains end up being a novelty since they do not resolve in a normal web browser. Also, there are signs that blockchain domains will resemble the dark web and obscure criminal activity. The pros and cons are describe in this article by Fast Company.
Why I Prefer Namecheap
One reason I have preferred Namecheap is that I also use them for web hosting. Back when I used GoDaddy and Bluehost I used uptime tracking sites to see how reliably my sites were online. Hosts claim 99.9% uptime but do they really provide this?
I found the answer was no. Bluehost and GoDaddy share hosting, according to my tracking using accounts like Pingdom and Uptime.com left websites down for huge blocks of time. Bluehost occasionally showed reliability around 96-97%. It was unacceptable so I moved on.
In addition as I mentioned, Namecheap offers free domain privacy protection to keep your details private in the WHOIS domain directory. This has been unusual across the industry and greatly appreciated by their customers.
Best choices going forward
I really like the idea of using short names via novel domain extensions like ".digital" or .co" – it's a way for people late to the dot com buying game to get a great domain. Plus all the evidence suggests Google and Bing search will not discriminate against you for using a new extension. Gone are the days when using "dot com" was the only viable option.
I own the domain "tdot.studio" and use it for our site network. Members of the Tdot Studio creative community can upgrade to Pro membership and get professional support and the opportunity to use a WordPress site on our network. Since the domain tdotstudio.com was unavailable I had to open my mind to alternatives.
Admittedly the Cloudflare price is going to be very appealing, however for beginners it still makes sense to have hosting and domains at the same provider so right now Namecheap is going to remain my go to.
What are your thoughts on buying domains? Let me know in the coments.