My Camera: My Journey with the Panasonic Lumix G9 (Part One)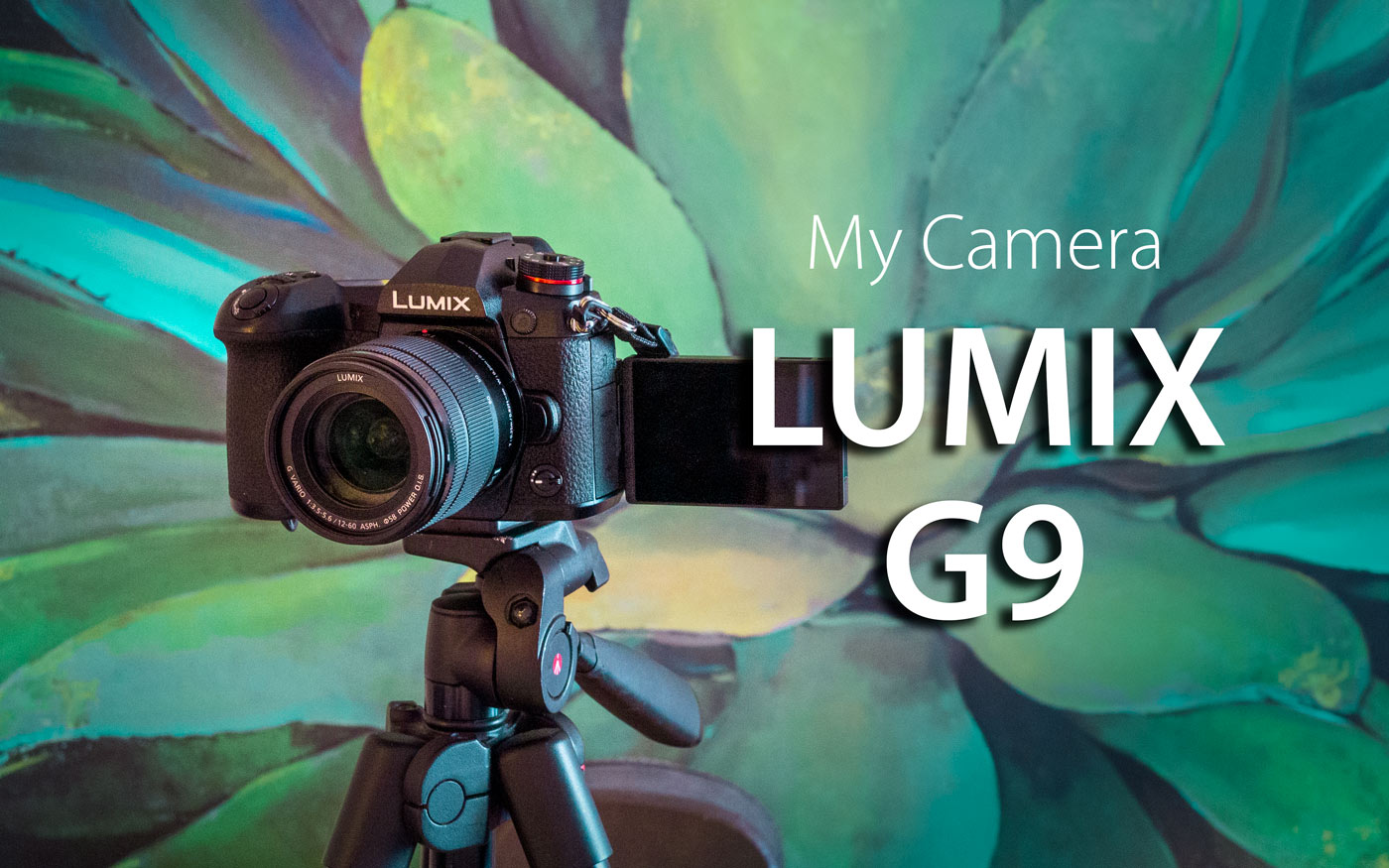 This post contains affiliate links which means if you click through and buy something I recommend I receive a small commission at no extra cost to yourself.
It's here! And boy am I a proud new papa. I mean, I have two kids, but this is definitely my new baby. May I present to you my new camera purchase – the amazing Lumix G9. Let me explain a little about my thought and shopping process. Buying this was a big investment and I learned quite a bit about mirrorless cameras and modern day camera tech.
First of all here are the key features for this camera:
affordable at around $1300 for body
still photography plus advanced video features
weather proofing, sturdy build, ergonomics
love the Lumix brand and product lines
Before I expand on the above, let me just explain that I have previously been shooting with an old Canon DSLR (a T2i) and a Nikon compact (the P7800). Both of them are fine cameras but in the last year or so I have outgrown them and I want to professionalize my approach and kit. Upgrading to a new(er) camera was a priority that would support my creative life and design/education business.
Cost and Value – Cameras like the G9 are a Bargain
For me this is a big investment, but it still ranks as an affordable piece of gear compared to the kinds of hot cameras many photographers are picking up, such as the trendy Sony A7 line. For me spending 3-4k was totally out of the question, so I had to give this careful consideration.
I needed a high ratio of value to cost, which is to say I needed a competent piece of kit which wouldn't set me back too much. I am aware that half of the battle is gear and half the battle is art aka editing. With a solid camera and my editing skills, I can shoot and produce images that are very much in line with what people can do with more expensive gear.
I bought this camera at Amazon. I went for a body-only purchase that was offered in 12 equal payments with no interest. So every month I pay about $120 for this camera – a lot more affordable than paying it all upfront. The lens was purchased separately, from a dealer on Amazon. I actually saved an additional $50 by buying the lens separately from the body. That surprised me but was a nice bonus for choosing this route.
If Henry's or Vistek, two shops I like in Toronto, had offered any kind of 0% financing like this, I would have supported them by buying from them online or at their downtown shops. I believe in supporting local business, but I also believe in shopping for deals.
My advice: I believe that you should observe two factors when making a purchase like this. One is to buy the best quality device you can afford. The other is to be honest about your present and future needs. Do you need a full frame camera or would an aps-c or micro four thirds camera work? Are lenses expensive for your camera? Are you going to be working professionally as a photographer or is this a hobby?
Still photography plus advanced video features
At first I partly zeroed in on this camera because I was really keen to get a high end video camera, and of course, mirrorless cameras are a great choice for this purpose. Along with a few other models, the G9 is rated highly for video capability. This kind of potential was very, very important to me.
Essentially the Lumix G9 is a tremendous camera that for still photos is top if its class. It's not necessarily the best, in fact there are models from Fujifilm, Olympus, Nikon and Canon, that give this guy a run for the money and may beat it in terms of auto-focus, or sensor size, for relevant examples. But micro four thirds lenses still produce amazing images, and I am not a bird or sports photographer so I'm not in need for a slightly larger APS-C or full frame sensor or some small incremental focus superiority. For my camera shooting, which includes street, landscape, architecture and portrait photography, the G9 will be highly capable. In fact, so far it's tack sharp and shots have lots of detail and low noise.
Video is where I really think this camera will excel. Lumix brand cameras are known for their excellent video. And while this is not as highly rated as the GH6 or S1 cameras for video performance, for a sub-$2k camera this device is in a league of its own.
In body image stabilization (IBIS) helps with taking photos and for video it will mean some very smooth footage is captured when shooting hand-held, panning, tilting or even walking around. It will not be superior to a gimbal or other tech but it will be superior to similar cameras that lack this stabilization.
This camera will shoot 4k at 60 fps which is a must have these days for video. Additionally it can shoot 1080p at 180 fps which can result in some amazing slow motion effects. I'm really looking forward to experimenting with this. It can be more powerful than time-lapse (and so much easier to shoot). Further, this camera shoots in very high quality MOV at 150 mbps with 4:2:2 10-bit video files, which is top of the class for this price range. Most similarly priced cameras do not have this capability.
Video capability is one of the primary reasons to buy this camera and I'm excited to see what I can create in the next few months. I already have a special video project in mind!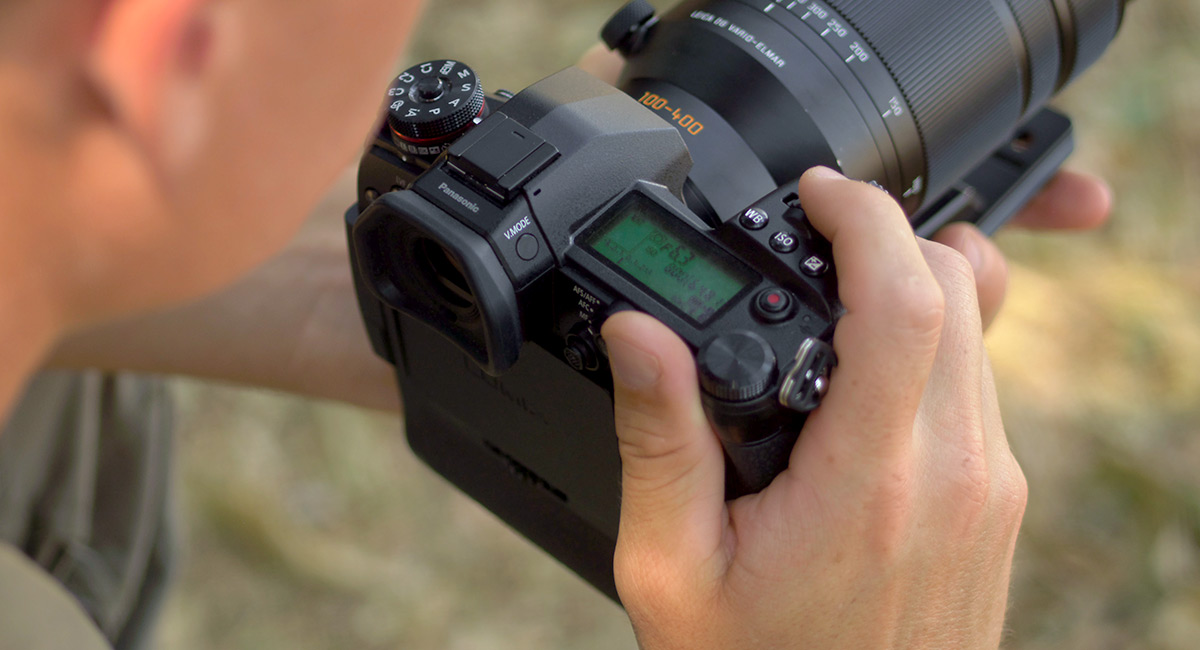 Weather Proofing, Build and Ergonomics
This category is not perfect with me as I have some small niggles, but more or less this category ticks most of the boxes. Almost every review of this camera states the buttons, dials and touchscreen, and grip and body, offer a pleasurable experience in the hand. One example of the practicality of this camera is the flip-out fully articulating LCD screen which is a handy addition to an already best-in-class EVF viewfinder. I removed cameras from my short list that only had tilting screens.
This camera has one of the "must haves" that I mulled while comparing cameras – weather proofing. I had to look past many of the cameras that didn't have this feature. Of course you can't shoot in the pouring rain but being rain and moisture resistant, and able to shoot in freezing cold temperatures (down to -10 celcius apparently) makes this cam pretty hardy. I will be shooting in all kinds of conditions through fall and winter.
Complaints: the camera doesn't turn itself off automatically and doesn't use USB-C, the new standard, that so many of my newest devices use. My Canon T2i does turn itself off after a few minutes of inactivity which is such a smart feature.
Lumix Love: Yes I have become a fanboy
For a few years I've ben aware of the raves Lumix cameras such as GH5, have received for their amazing video quality. Going back to 2013 an indie film called Upstream Color was widely praised for its quality and was reputedly shot with the Panasonic GH2. I kept that in the back of my mind as I considered camera upgrades for the past five or so years.
Lumix also manufactures an amazing range of highly valued compacts aka point and shoot cameras. Admittedly I love the pocketable compact format and I have even fallen in love from a distance with the Panasonic LUMIX DMC-ZS100. I never bought one because my Nikon P7800 ticks most of the boxes for an amazing compact and has served me well since 2014.
Because it Lumix's stellar reputation and the fact that in its five year existence the G9 has recieved a half dozen firmware updates that really extended the functionality of the camera I have lots of trust in Panasonic. So whatever glass or lenses I buy, I have some confidence that they and the G9 camera will retain high resale value for the future. I have already declared though that this is my "camera for the next ten years!" (I hope to get five amazing years out of it before any future upgrade).
Kit Lens
A smart thing for any photographer is to consider the advantages of using the kit lens that is often sold with the body. These lenses are often zoom so they conveniently cover a range of focal lengths from wide to telephoto. As a bonus they are designed to integrate well with the camera and often relatively inexpensive.
Panasonic HFS12060 LUMIX G Vario Lens, 12-60mm, F3.5-5.6 ASPH is a Lumix-branded micro four thirds lens for cameras like the G9. It is black and pretty lightweight, but has a sturdy feeling. The benefit of micro four thirds lenses (also known as mft) are that they are pretty compact compared to typical full frame (ff) or aps-c lenses. In addition to the small size, they are many times lighter and won't weigh you down.
.
As part of my first days testing, learning all the features and buttons, I have been shooting in automatic mode with this lens and the results are incredible. With a twist you can pivot from a very wide 24 mm full frame equivalent and then go long with a 120 mm equivalent reach. Further, the large 20 mb image can be cropped into with lots of detail left over. This lens will be a good replacement for shooting with my Nikon compact and its 28-200 mm reach.
Tips for Setting Up the Camera
It's a good idea with a new camera to put it through its paces, and make sure all the features work.
My test list and to do list includes:
Shoot in auto in highest quality RAW+ JPG
Connect with my phone using Bluetooth/Wifi
Try "post focus" mode (along with burst modes)
Record in ultra high quality video at 150 mbps
It's important that within the first days you test the camera to determine that everything works as it should, in case down the road, you discover anything amiss, particularly after warranty period.
YouTube is full of interesting videos with walk-throughs, and these are helpful, as the manual is through but seeing a high-res full colour video recorded by enthusiasts is perhaps the best way to learn.
Links and Resources
Buy Lumix G9 Body and Kit Lens
https://amzn.to/3A9CTdp
Buy Lumix G9 Body-only
https://amzn.to/3CiA50g
Buy Lumix G9 kit lens
https://amzn.to/3AdHLhx